---
Urologic clinical trials are under-conducted in low and lower-middle income countries
Ankur Ushir Choksi, MD
, Isaac Y. Kim, MD PhD MBA.
Yale School of Medicine, New Haven, CT, USA.
BACKGROUND: Despite the global prevalence of disease, there is a significant disparity between the burden of disease and the host sites of clinical trials across the world. Prior studies have suggested that approximately 83% of all clinical trials being performed occur in twenty five countries.1 There is a lack of knowledge regarding the distribution of clinical sites of ongoing clinical trials, especially in low and middle income countries (LMICs). In this study, we use publicly available clinical trial registries to analyze the distribution of urologic clinical trial sites.
METHODS:
We performed a search query on ClinicalTrials.gov for active clinical trials related to "prostatic neoplasms, urinary bladder neoplasms, kidney neoplasms, urolithiasis, urinary tract infections, and lower urinary tract symptoms." All phases of clinical trials were included. We did not exclude trials on the basis of specific age or gender recruitment criteria. Geographic analysis was performed by stratifying countries based on the World Bank classification by gross national income capita. Descriptive analysis was performed for the queried terms and graphically represented using choropleth maps.
RESULTS: Using the ClinicalTrials.gov registry, the search terms were individually queried and the results were summarized in Table 1. The distribution of clinical trials sites were graphically represented using choropleth maps (Figure 1a-f). The query for prostatic neoplasms was the most populated on the registry, identifying a total of 1,474 clinical trials performed across 2,731 different trial sites and 65 different countries. Only 29 clinical trials (1.06%) were recruiting in LMICs. In contrast, for clinical trials related to non-oncologic urologic conditions, the query for "urolithiasis" identified 136 clinical trials across 139 trial sites of which LMICs comprised of 19 trial sites (13.67%), the query for "urinary tract infections" identified 95 clinical trials across 140 trial sites of which LMICs comprised of 13 trial sites (9.29%), and the query for "lower urinary tract symptoms" identified 303 clinical trials across 341 clinical trial sites of which LMICs comprised of 14 trial sites (4.10%.). Although limited, LMICs represented a higher proportion of non-oncologic urologic clinical trials as compared to their enrollment representation of urologic oncology clinical trials (χ2 = 275.5, p < 0.001).
CONCLUSIONS:
A majority of urologic clinical trials are performed in high income countries. The disparity of clinical trial sites is greater for oncologic diseases as compared to non-oncologic diseases. Additional efforts are required to improve the number of clinical trials that are performed in LMICs.

Distribution of clinical trials being performed globally based on urologic search query terms

| | | | | | | |
| --- | --- | --- | --- | --- | --- | --- |
| Search Query Term | Number of Clinical Trials | Number of Trial Sites | Number of Countries | Number of Trials in USA | Number of Trials in LMICs | Percent of Trials in LMICs |
| Prostatic Neoplasms | 1474 | 2731 | 65 | 851 | 29 | 1.06% |
| Urinary Bladder Neoplasms | 458 | 1184 | 57 | 264 | 41 | 3.46% |
| Kidney Neoplasms | 469 | 1089 | 54 | 315 | 15 | 1.38% |
| Urolithiasis | 136 | 139 | 26 | 62 | 19 | 13.67% |
| Urinary Tract Infections | 95 | 140 | 49 | 31 | 13 | 9.29% |
| Lower Urinary Tract Symptoms | 303 | 341 | 48 | 119 | 14 | 4.10% |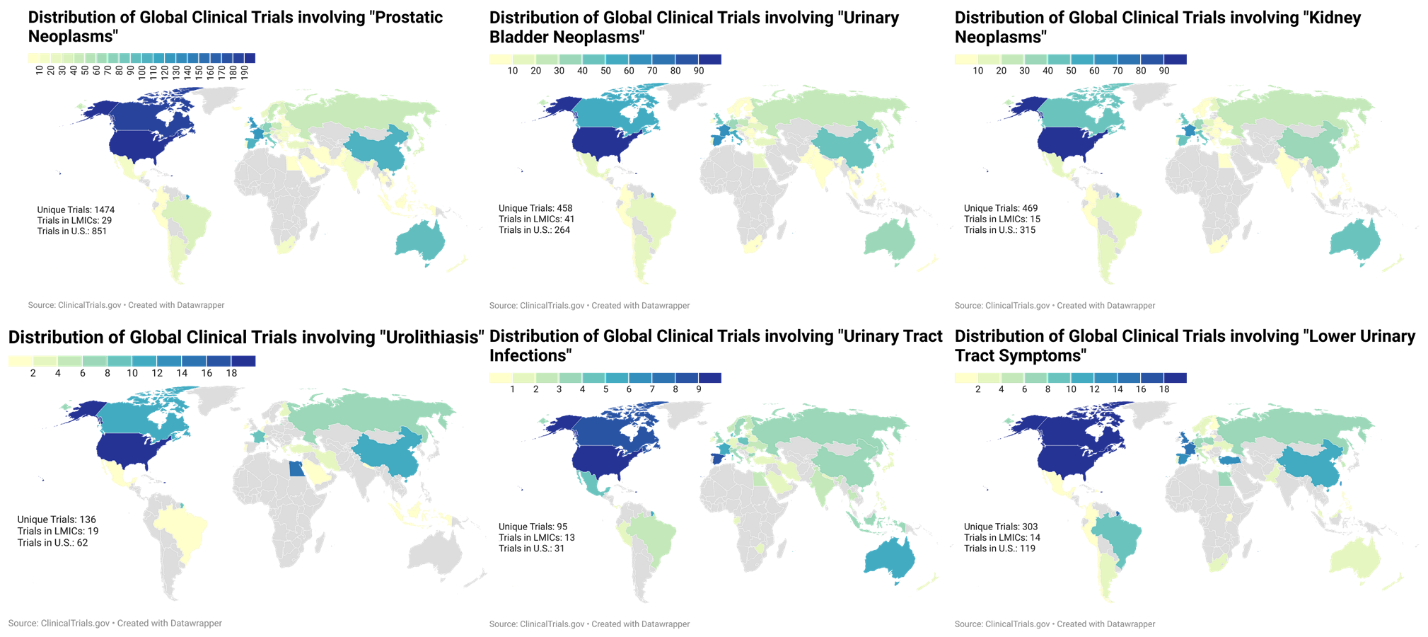 ---
Back to 2022 Abstracts