---
Clinical and Urodynamic Predictors of Hydronephrosis and Febrile UTIs in Neurogenic Bladder Children
Kenneth A. Softness, MD
1
, Ranveer Vasdev, MS
2
, Rachel Saunders, BA
3
, John C. Panagides, BS
4
, Carlos R. Estrada, Jr., MD, MBA
3
, Hsin-Hsiao Scott Wang, MD, MPH, MBAn
3
.
1
Beth Israel Deaconess Medical Center, Boston, MA, USA,
2
Medical School, University of Minnesota Twin Cities, Minneapolis, MN, USA,
3
Boston Children's Hospital, Boston, MA, USA,
4
Harvard Medical School, Boston, MA, USA.
BACKGROUND: Hydronephrosis and febrile urinary tract infections (fUTI) pose significant challenges for quality of life and are considered proxies for upper tract risks. The aim of this study is to identify clinical and urodynamic study (UDS) factors predictive of hydronephrosis and fUTI in children with neurogenic bladder. METHODS: UDS of neurogenic bladder patients from 2013-2019 were reviewed. Patients younger than 1 year old, studies with calibration issues, and bladder augmentation patients were excluded. Covariates included, age, sex, fUTI within 1 year, and UDS parameters such as detrusor leak point pressure (DLPP), maximal detrusor filling pressure (Pdetmax), post-void residuals (PVR >20% measured capacity), and vesicoureteral reflux (VUR) status. Multivariate logistic regression was performed using generalized estimating equations to adjust for repeat measurements. RESULTS: We included 518 studies of neurogenic bladder patients with a mean (SD) age of 10.9 (6.9) years. 42% were males, 21% had hydronephrosis, and 14% had fUTI within 1 year of UDS. After adjusting for age, sex, CIC, detrusor overactivity (Table 1A), hydronephrosis was significantly associated with recent febrile UTI history (OR=2.0(1.1-3.5), p=0.02), high DLPP or Pdetmax (>40cmH2O, OR=1.7(1.03-2.9), p=0.039), elevated PVR (>20% capacity, OR=2.5 (1.4-4.3), p<0.01), and VUR (OR=2.1(1.2-3.7), p<0.01). After adjusting for age, sex, elevated PVR, CIC, detrusor overactivity, VUR, (Table 1B), fUTI was significantly associated with hydronephrosis (OR = 1.95, 95% CIC (1.11-3.44), p =0.02) and high DLPP or Pdetmax (>40 cm H20, OR =2.10 , 95% CIC (1.03-4.289), p =0.041) CONCLUSIONS: In our cohort, higher bladder pressures (high DLPP or Pdetmax) were most significantly associated with upper tract changes proxies including hydronephrosis and febrile UTIs. Proper management of bladder pressure plays an essential role in neurogenic children. These results can help guide clinicians in identifying patients at higher risk of hydronephrosis and fUTI.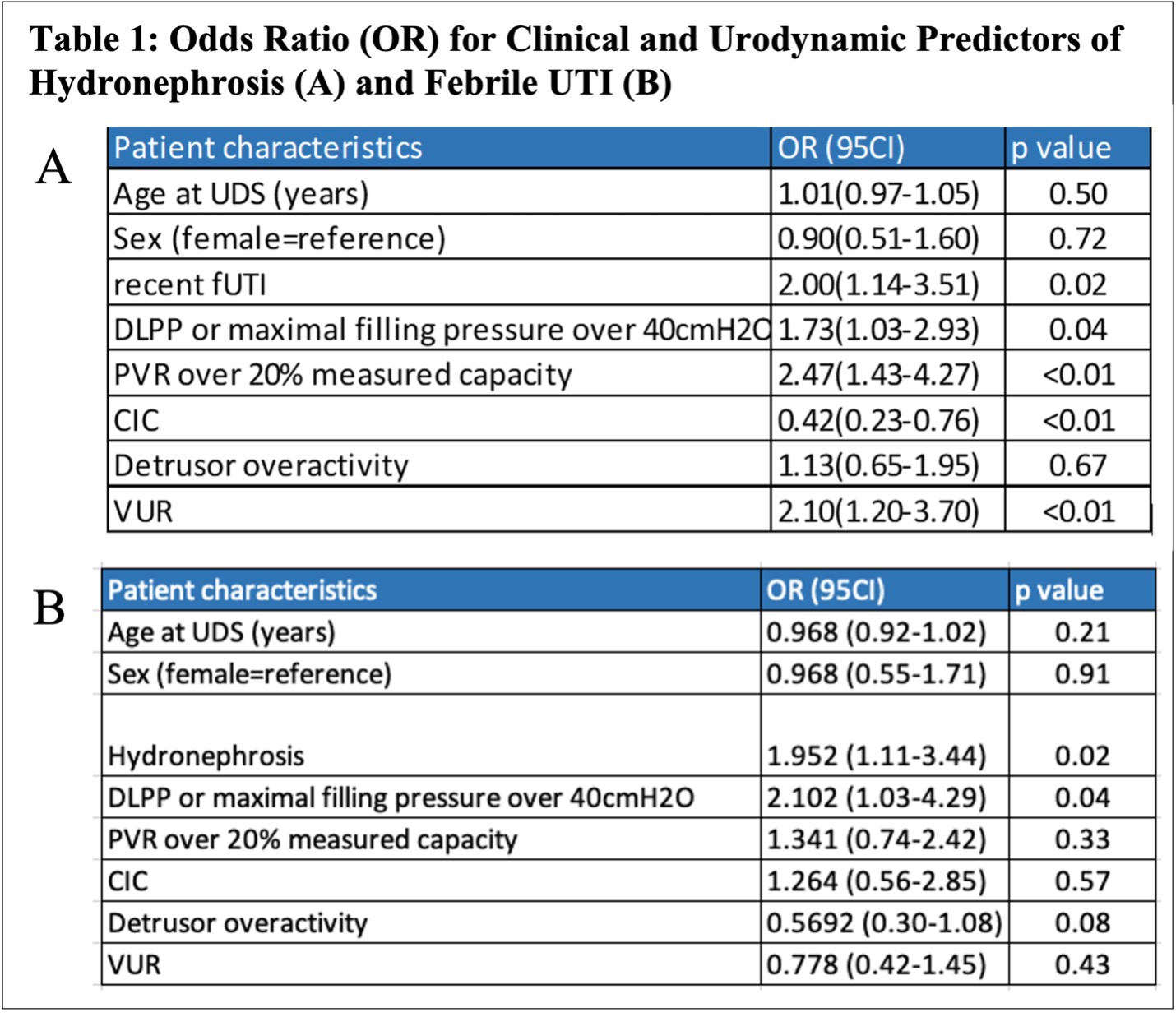 ---
Back to 2022 Abstracts