---
Disparities in the Attributable Bladder Cancer Risk Due to Smoking
Yuchen Liu, BS & BA
1
, Yuchen Zhao, BS
1
, Yujia Lu, BS
1
, Danaei Goodarz, MD, Sc.D, MS
1
, Boris Gershman, MD
2
.
1
Harvard Chan School of Public Health, Boston, MA, USA,
2
Beth Israel Deaconess Medical Center, Boston, MA, USA.
BACKGROUND: Cigarette smoking is a well-established risk factor for bladder cancer (BC). In addition, strong underlying disparities have been described regarding both the incidence and management of bladder cancer related to patient characteristics. We hypothesized that disparities in the prevalence of smoking may contribute to observed disparities in the incidence of BC. To address this question, we evaluated the proportion of BC incidence that is attributable to smoking and the attributable burden of disease, by sex, race, and age.
METHODS: We estimated the proportional reduction in the incidence of BC that would be expected if smoking was eradicated in the US, i.e., no one had ever smoked. The prevalence of smoking (current, former, never) was obtained from the Behavioral Risk Factor Surveillance System (BRFSS) [2017]. The relative risk of smoking and BC were obtained from a recent meta-analysis of 83 observational studies and the incidence rate of bladder cancer was obtained from the Surveillance, Epidemiology, and End Results (SEER) Program in 2018. The incidence rate was standardized to the 2018 US population from the Census. The variance of the standardized incidence rate (SIR) was calculated to capture the burden of BC attributable to smoking.
RESULTS: Almost half (41.5%) of new BC cases in the US population can be attributed to smoking. By removing smoking, more than 10,663 cases of BC may be eliminated. Across all ages and races, more BC cases were eliminated by the removal of smoking among males than females; however, males still had a substantially larger incidence rate of BC compared to females. Across different races, the variance of SIR reduced the most for the black populations among males (74%) and Asian or Pacific Islander for females (Figure 1). When examining across age groups, those aged 75-79 among males (80 %) and those aged 55-64 (67%) among females had the greatest reduction (Figure 2).
CONCLUSIONS: Using population-based estimates for smoking prevalence and BC incidence, we observed disparities in the BC attributable to smoking, with greater burdens in males compared to females; black males and Asian females compared to other races, and males aged 75-79 years and females aged 55-64 years compared to other age groups.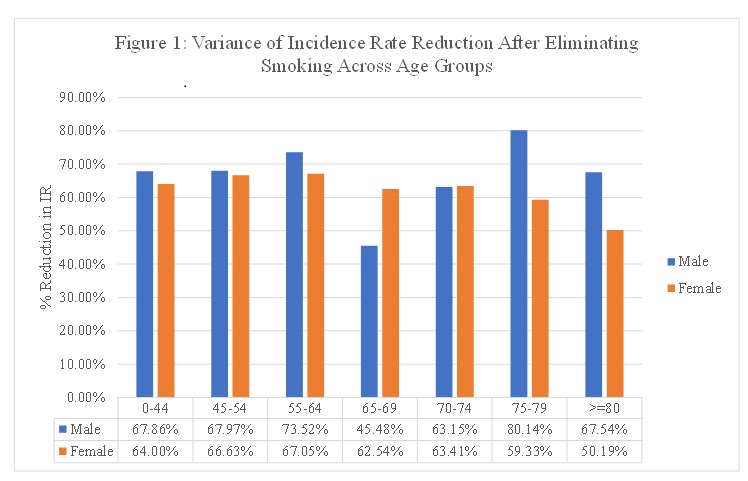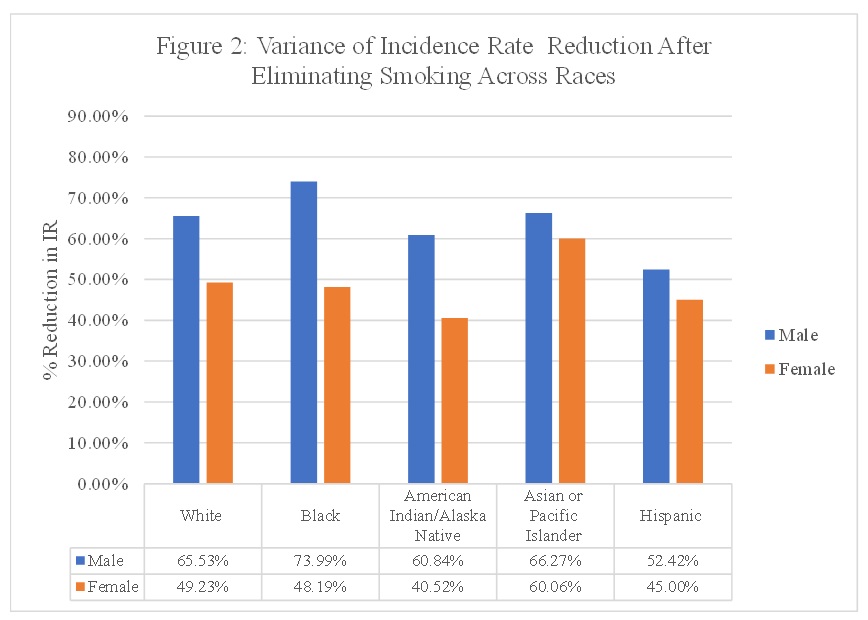 ---
Back to 2022 Abstracts