---
Obstructing ureteral calculi and presumed infection: Impact of antimicrobial duration and time from decompression to stone treatment in developing urosepsis
Ambrose Orr, MD
, Mohannad Awad, MD, Kevan Sternberg, MD.
University of Vermont Medical Center, Burlington, VT, USA.
Background: Obstructive urolithiasis with associated urinary infection is a urologic emergency requiring urinary tract decompression to decrease the risk of urosepsis. Initial management after decompression requires tailored antibiotic treatment, although the duration of antibiotics required and the amount of time to wait until proceeding with definitive stone surgery is unknown. Traditionally, longer periods of time were recommended to optimize urinary sterilization before invasive treatment. This subjects the patient to the potential side effects of prolonged antibiotic use and whether this increased duration of antibiotics results in improved clinical outcomes is unknown. Our goal is to review the clinical outcomes of patients requiring urgent decompression and identify associated risk factors for the development of complications after definitive stone management with specific focus on the timing and antibiotic usage between the initial and definitive intervention.
Materials & Methods: A retrospective review of patients who were diagnosed with obstructive urolithiasis with a presumed infection and underwent urgent decompression with a ureteral double J stent or percutaneous nephrostomy (PCN) at our institution between 2012-2018 was performed. Demographic, infection and antimicrobial data, and initial admission to stone treatment characteristics were collected. Factors associated with developing urosepsis post stone treatment were analyzed.
Results: Of 872 patients who underwent urgent decompression of obstructive urolithiasis during this period, 346 (39.7%) underwent definitive stone management at our institution, and 215 (62.3%) of these were performed for presumed infection and included in our analysis. The median age was 63 years old (Interquartile (IQR) 52-72). 159 (74%) were female and 80 (37.2%) were diabetics. 71 (33%) had fevers, 138 (64.2%) had a positive urine culture, 54 (25.1%) had a positive blood culture, and 98 (45.6%) had urosepsis at the initial presentation. 179 (83.3%) underwent stent placement and the rest had a PCN placed by interventional radiology. The median antimicrobials duration post decompression was 13 days (IQR 8-18). The median duration from decompression to stone treatment was 17 days (IQR 12-27). 175 (81.4%) patients underwent ureteroscopy (URS) with laser lithotripsy/stone extraction and the rest underwent percutaneous nephrolithotomy (PCNL). 8 (4.6%) patients developed urosepsis post URS and 2 (5%) post PCNL. No factors were associated with developing urosepsis post stone treatment on univariate and multivariate logistic regression analyses.
Conclusions:This study demonstrates that in patients requiring urgent decompression for obstructing urolithiasis and suspected infection, the time between initial intervention and final stone
treatment as well as the length of antimicrobial exposure did not impact rates of postoperative urosepsis. This highlights the importance of maintaining high clinical suspicion for prolonged use of antibiotics, to prevent overtreatment and possible exacerbation of antimicrobial resistance.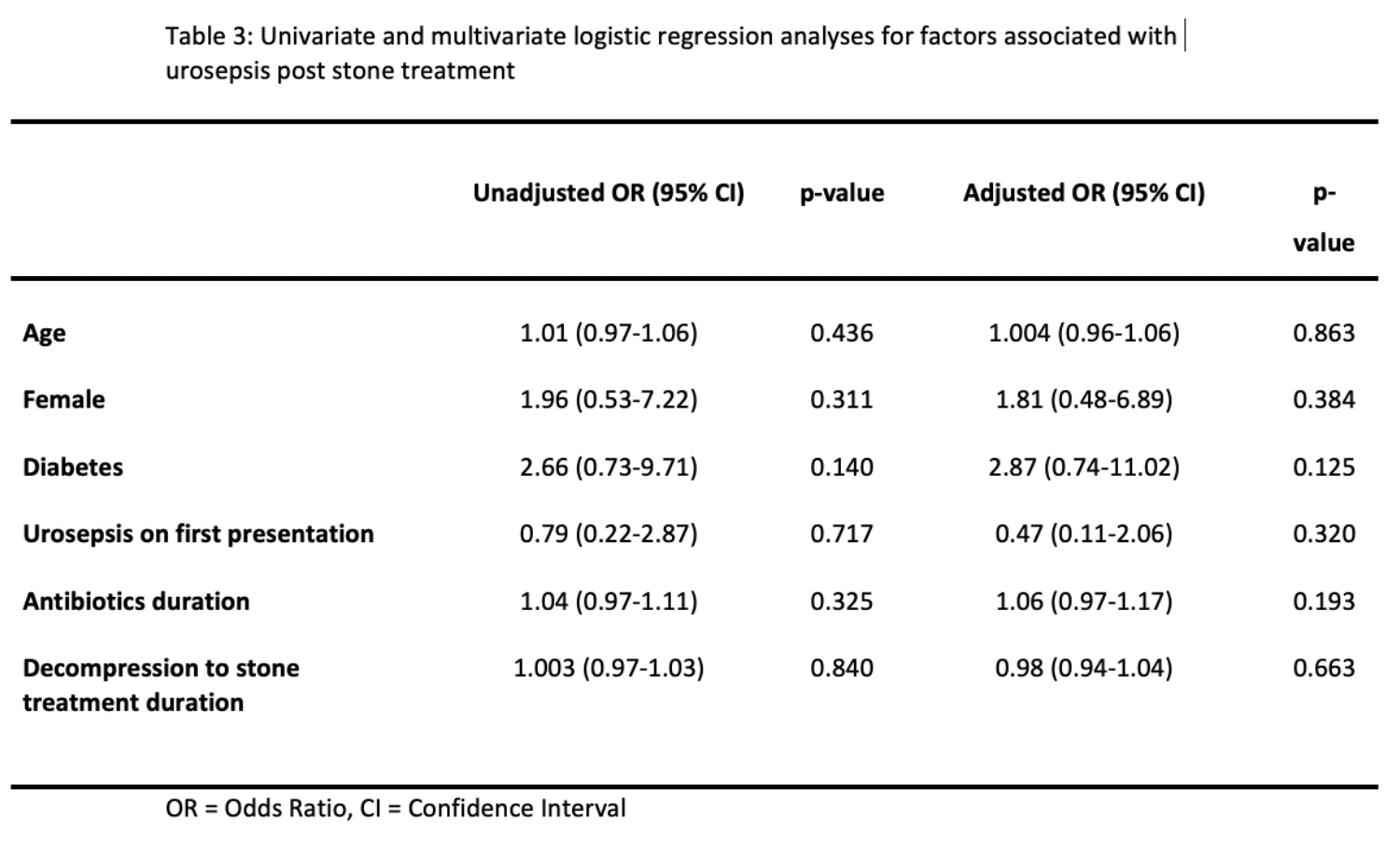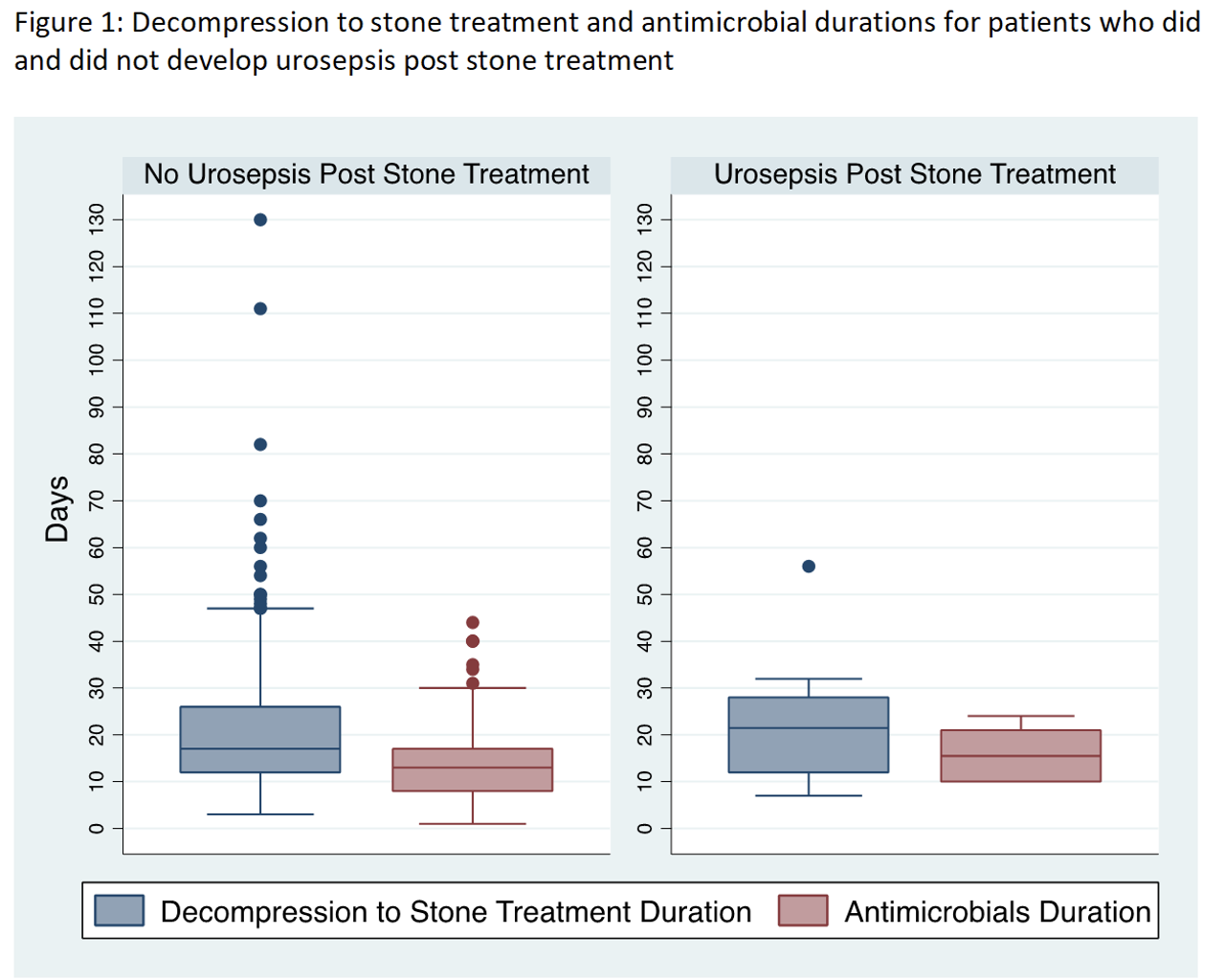 ---
Back to 2022 Abstracts