---
Development and Utilization of a Novel EMR-Based Care Pathway for Nephrolithiasis Management in the ED
Soum D. Lokeshwar, MD, MBA
, Dylan Heckscher, MD, Benjamin H. Press, MD, Syed N. Rahman, MD, Ankur U. Choksi, MD, Daniel Heacock, PA, Dinesh Singh, MD, Piruz Motamedinia, MD.
Yale University, New Haven, CT, USA.
BACKGROUND:Patients with nephrolithiasis account for more than 2 million Emergency Department (ED) visits in the United States each year. Recently, there has been an increase in patients with nephrolithiasis. Coupled with the influx of COVID-19 patients in the ED, it is imperative to triage and treat these patients with nephrolithiasis in a timely manner. We designed an electronic medical record (EMR) integrated pathway to augment timely assessment, triage, and best practice management of patients with nephrolithiasis based on clinical presentation and imaging characteristics. The objective of this study is to describe the development and utilization of our EMR-based Care Pathway for nephrolithiasis in the ED.
METHODS: Our hospital system is composed of a university-based academic center with multiple hospitals and outpatient centers. To standardize and ensure best practice care, our system utilizes Care Signature Pathways through the EMR, which synthesize evidence, expert consensus, and clinical decision support at the point of care.The Nephrolithiasis Pathway, developed based on AUA guidelines and multispecialty reviews, is intended to meet specific goals including decreasing ED length of stay for uncomplicated non-obstructive kidney stones, increasing the number of low dose CT imaging for patients, and increasing the number of patients being discharged with a 28-day prescription of tamsulosin. It was developed with multidisciplinary stakeholders including ED, Urology, IR and Radiology providers.
The pathway begins with the identification of potential patients with nephrolithiasis with STONE score, initial diagnostic tests, pain control, rapid identification of infection and patients with suspected sepsis. The pathway then suggests imaging recommendations and based on patient factors including stone size, symptoms, presence of infection/AKI, recommends type of urologic evaluation either referral, notifying urology, consulting urology and admission. For patients ready for discharge, the pathway provides medical recommendations, follow up and return criteria (Figure 1). The pathway includes information on risk factors, indications for IR consult, US findings for nephrolithiasis, and management for suspected sepsis.
RESULTS: The Care Pathway was utilized a 195 times from September 3, 2021 - February 12, 2022 at 8 different hospitals or care centers (Table 1). The majority of usage was in the ED (171; 87.7%). A total of 79 providers utilized the Pathway with the majority being physicians (50; 63.2%). The pathway was involved in the care of 129 patients with an average age of 47, and 58.9% were males (53 women, 41.1%). A total of 35 Urology referrals were placed through the pathway with 21 new 28-day prescriptions of tamsulosin ordered.
CONCLUSIONS: An EMR-integrated Nephrolithiasis care pathway has been readily utilized in the ED and may augment triage and best practice management of patients presenting with stone disease. Further studies and larger usage are needed to validate these findings.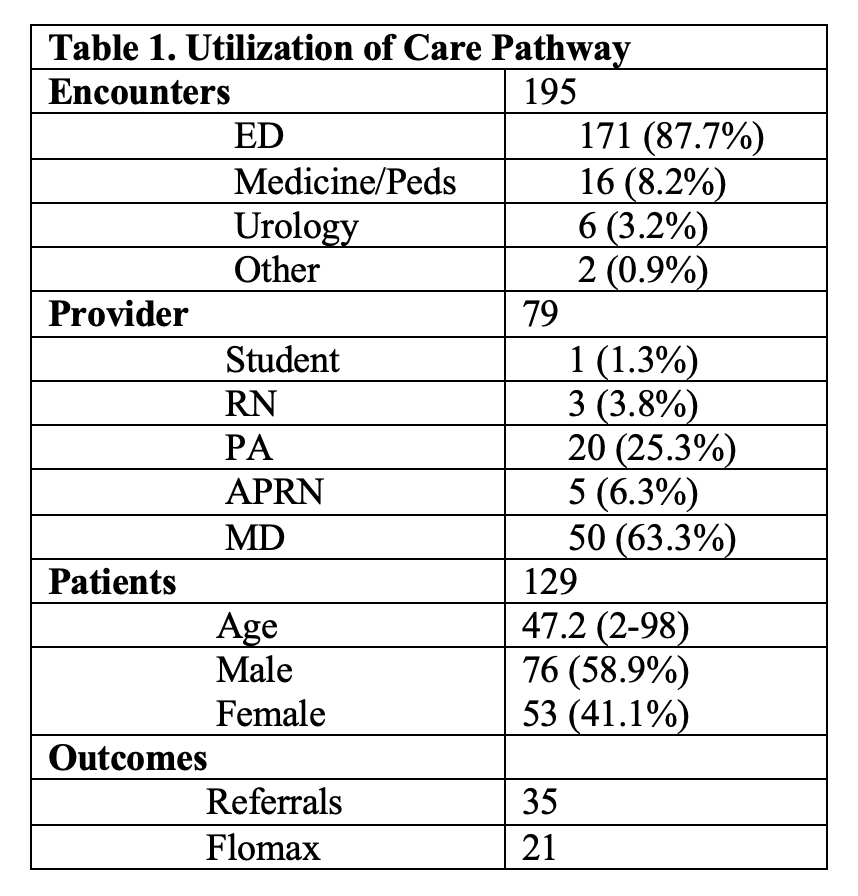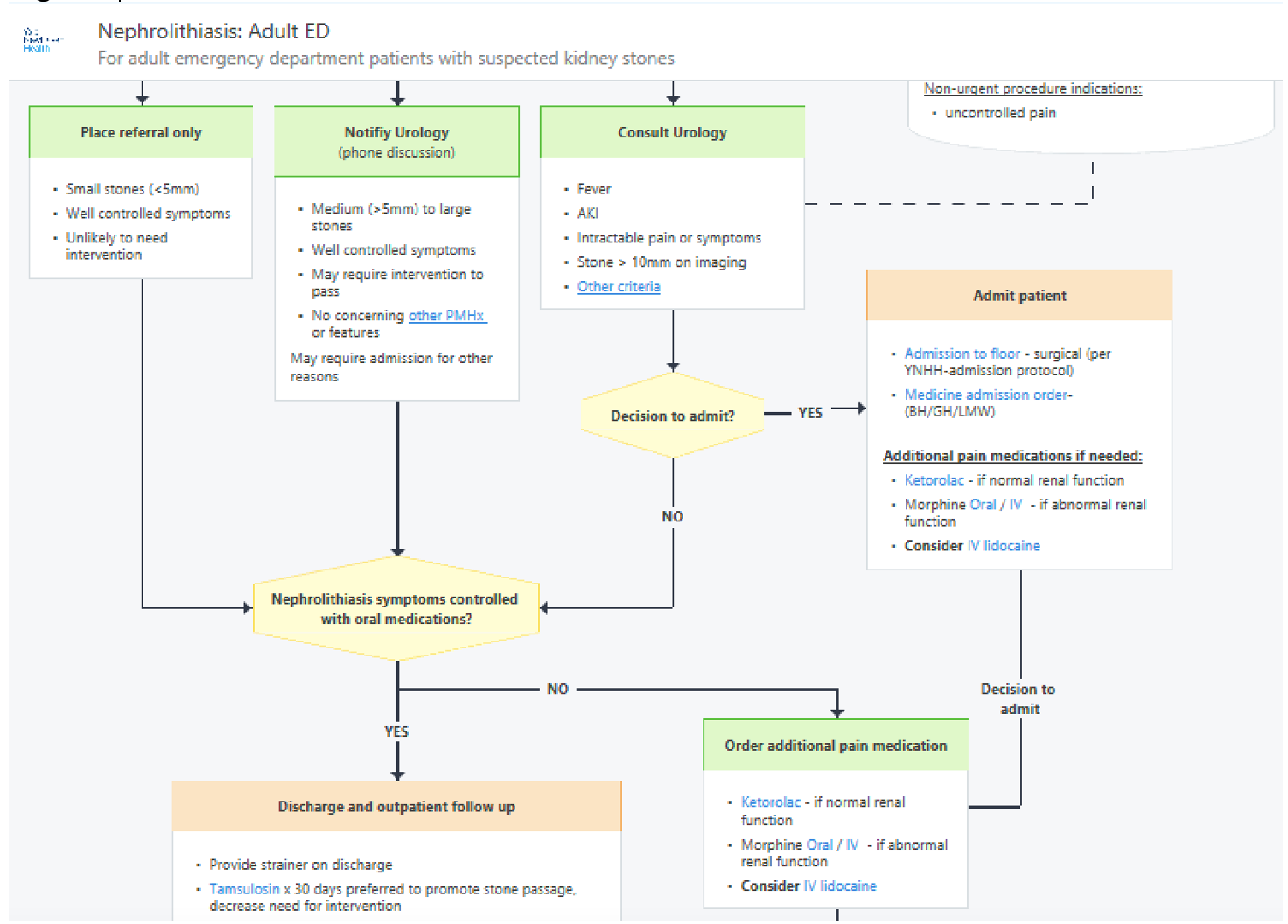 ---
Back to 2022 Abstracts