---
Cumulative Impact of Serial Partial Nephrectomy for the Treatment of Recurrent Renal Masses
Maria B. Antony, BSc
, Zach Kozel, MD, Nikhil Gopal, MD, Lauren Loebach, BSc, Sandeep Gurram, MD, W. Marston Linehan, MD, Mark W. Ball, MD.
National Cancer Institute, Urologic Oncology Branch, Bethesda, MD, USA.
BACKGROUND: Reoperative partial nephrectomy (RePN) offers several advantages for the treatment of recurrent, multifocal renal masses. RePN has been previously demonstrated to be technical feasibility and delay the need for renal replacement therapy. However, there is still inherent complexity and known risks to repeat nephrectomy. We studied the largest known population of repeat partial nephrectomies in order to characterize likelihood of intra- and post-operative complications, as well as renal functional outcomes.
METHODS: We performed a retrospective query of an institutionally maintained registry of nephrectomies for renal carcinoma conducted from 1976-2021. Demographic data, serum creatinine (SCr) and protein dipstick results were assessed within one week prior to surgery, and postoperative function assessments were conducted within 180 days after surgery. SCr was used to calculate eGFR using CKD-EPI 2021. Surgical history was established using both institutional and extrainstitutional data to determine number of previous partial nephrectomies per renal unit with the following nomenclature: "P1" was defined as the first nephrectomy on a surgically naïve kidney. All following repeat partial nephrectomies on the same renal unit were assigned "P2", "P3", "P4", and "P5". Post-operative complications were determined from Clavien-Dindo Classification System criteria.
RESULTS: 1,140 institutional partial nephrectomies were evaluated within the period of 1989 and 2021. 178 extra-institutional surgeries were evaluated across 96 outside institutions between 1976 and 2021. Of these, 363 (93.3%) of reoperative cases were conducted within our institution. Of 1,008 cases with available pre- and post-operative GFR at a median follow up time of 117 days (IQR: 93-173), we observed a step-wise decline in GFR with an average GFR decline of 6.1 with each subsequent nephrectomy on the same renal unit (p<0.001)). With each subsequent nephrectomy, both surgical duration (p<0.001) and, estimated blood loss (p<0.001) increase. On multivariate analysis, the number of tumors removed (Coef: -0.23 , SE: 0.077, p= 0.003 ), largest tumor removed (Coef: -0.66 , SE: 0.26 , p= 0.011 ), age (Coef: -0.215 , SE: 0.048, p <0.0001), total previous partial nephrectomies (Coef: -1.13 , SE: 0.42, p= 0.008 ), presurgical GFR (Coef: 0.75 , SE: 0.028, p<0.0001 ), pre-operative proteinuria (Coef: -6.84, SE: 1.9, p<0.0001) and solitary kidney (Coef: -7.3, SE: 1.8 , p<0.001) were predictors of post-surgical GFR. On multivariate analysis, number of tumors removed (OR: 1.07, SE: 0.059, p<0.0001), number of previous partial nephrectomies on the same renal unit (OR: 2.06, SE:0.32, p<0.0001) and open surgical approach (OR:4.9, SE:3.8, p=0.041) were predictive of surgical complication.
CONCLUSIONS: These are the first-described findings that quantitatively describe serial nephrectomy on functional outcomes with long-term post-surgical follow-up. RePN conveys increasing surgical morbidity in terms of renal function decline as well as increased post-operative surgical complications. Additionally, intraoperative blood loss and surgical duration increase with subsequent surgery. Together, these impacts must be fully appreciated when counseling patients, particularly those with recurrent tumor syndrome.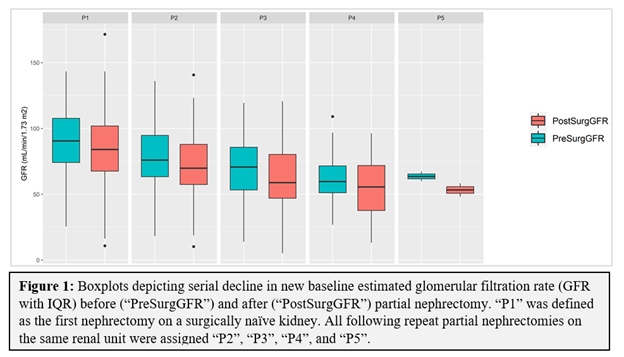 ---
Back to 2022 Abstracts