---
Lower rates of continued and de novo BPH medication usage after the Prostatic Urethral Lift (PUL) compared to TURP and PVP demonstrated inUS healthcare claims analysis
Ronald Kaufman, MD
1
, Daniel Rukstalis, MD
2
, David Kaplan, MD
3
, Claus Roehrborn, MD
4
.
1
Albany Medical College, Albany, NY, USA,
2
Prisma Health USC Medical Group, Columbia, SC, USA,
3
Academic Urology of Arizona, Litchfield Park, AZ, USA,
4
UT Southwestern Medical Center, Dallas, TX, USA.
BACKGROUND: The effect of minimally invasive and surgical BPH treatments on medication usage is largely unknown. This analysis assesses rates of preoperative, postoperative, and continued BPH medical therapy after Prostatic Urethral Lift (PUL), TURP, and photo-vaporization of the prostate (PVP) by analyzing US healthcare claims.
METHODS: A representative sample of the commercial and Medicare claims from 2015-2020 included 40,267 patients who underwent outpatient PUL, TURP, and PVP. Duration and rate of BPH medication usage were calculated, including odds ratios to assess the likelihood of de novo and continued medication use following each surgical procedure of interest in comparison to PUL.
RESULTS: For patients with records of BPH medical therapy who then underwent surgical treatment, a larger proportion stopped medication after PUL (66%) compared to TURP (60%) and PVP (58%). Compared to TURP and PVP, fewer PUL patients began de novo medication after their procedure (TURP 19%, PVP 20%, PUL 13%). The medication class used most commonly prior to surgery and continued postoperatively was alpha-blockers. Compared to PUL, odds ratios estimated 58% and 39% increased likelihood of continued medication usage following PVP and TURP, and odds ratios of 65% and 51% for de novo medication usage after PVP and TURP compared to PUL.
CONCLUSIONS: Despite the inaccuracies inherent to working with this large database, this analysis suggests that more patients continued to take BPH medication or began new BPH medications following treatment with TURP and PVP compared to PUL. More investigation is required to determine if these findings are due to over-performance of PUL or underperformance of PVP and TURP against expectations for improvement.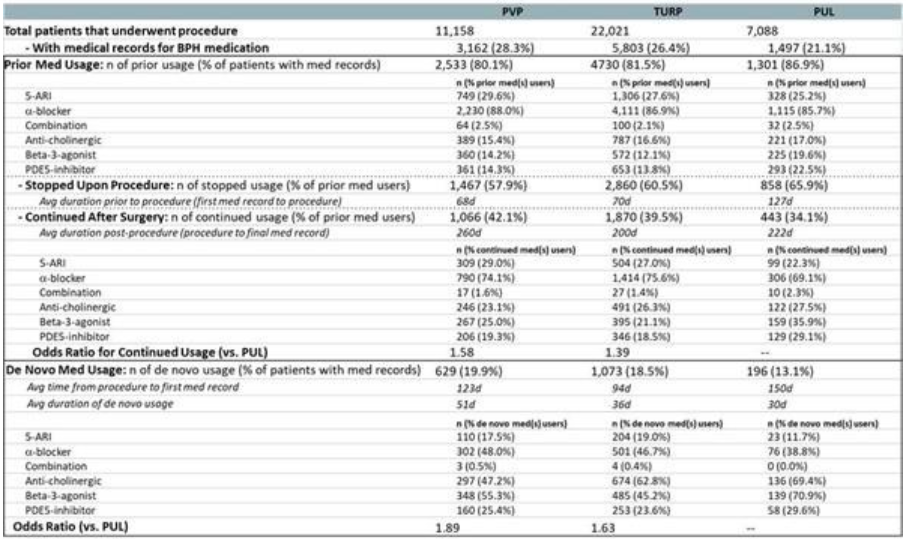 ---
Back to 2022 Abstracts