---
Residency Applicant Demographics and Their Association with Rank-List Status: A Seven-Year Analysis of a Single Institution's Diversity, Equity, and Inclusion Initiatives in Recruitment
Joshua P. Hayden, MD
, Adam Wiggins, MD, Lara S. MacLachlan, MD, Karim Hamawy, MD.
Lahey Hospital and Medical Center, Burlington, MA, USA.
BACKGROUND: There is widespread consensus that the urologic community must become more representative of the national patient population. That is, as urology—and medicine in general—has historically been a white-male dominated field, recent efforts have focused on transitioning formal medical education into a more inclusive and diverse field, with the objective of further diversifying healthcare. Together, these efforts are formally termed Diversity, Equity, and Inclusion (DEI) initiatives. This study seeks to evaluate recruitment and applicant ranking trends within our single institution's urology residency program over the past seven application cycles to determine the success of our recruitment efforts in increasing DEI within our program.
METHODS: Applications to our urology residency program over the past seven application cycles (2016-2022) were collected from the Electronic Residency Application Service (ERAS), and demographic characteristics including self-reported sex and race/ethnicity were recorded in a REDCap database. Odds ratios (OR) for applicant ranking (binary yes vs. no) were calculated using logistic regression and were adjusted for sex, race/ethnicity, and year of application. All analyses were conducted with Stata version 17.0 (Stata Corp., College Station, TX, USA).
RESULTS: In total, our single institution reviewed 1,965 applications over the past seven application cycles. Of these applicants, 60% where male, 24% were female, and 16% did not report their sex. The greatest fraction of applicants self-identified as White (46%), while Asian (23%), Hispanic (7%), Black (5%) and Other/Undisclosed (17%) made up smaller fractions. American Indian applicants made up the least represented minority group at 0.3% (Table 1). Female applicants had significantly higher odds of being ranked compared to male applicants (OR 2.61, p < 0.001). In contrast, race/ethnicity and year of application were not significantly associated with odds of being ranked (Table 2).
CONCLUSIONS: The results of this study show female applicants having higher odds of being ranked at our institution compared with their male counterparts. We attribute these findings to our intentional commitment to DEI initiatives in residency recruitment. However, race/ethnicity was not significantly associated with odds of being ranked, suggesting that our efforts towards increasing racial and ethnic diversity within our program have not yet resulted in a statistically significant change in our ranking practices. Therefore, while some progress has been made toward our DEI goals, further efforts should be focused on identifying interview and ranking practices that are working against our achievement of racial and ethnic DEI within our academic urology residency program.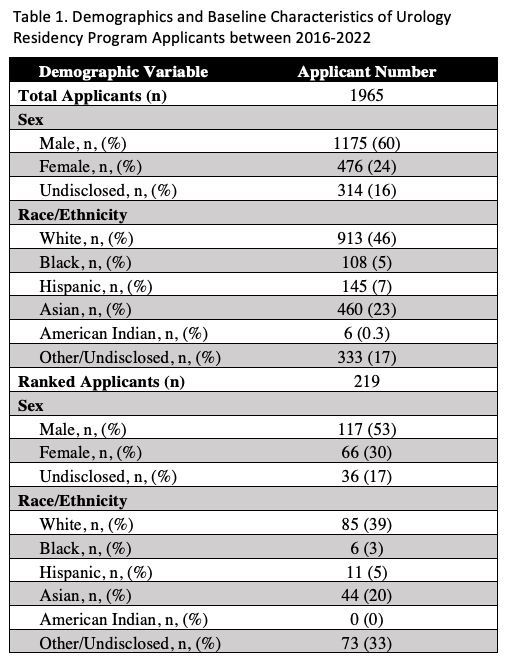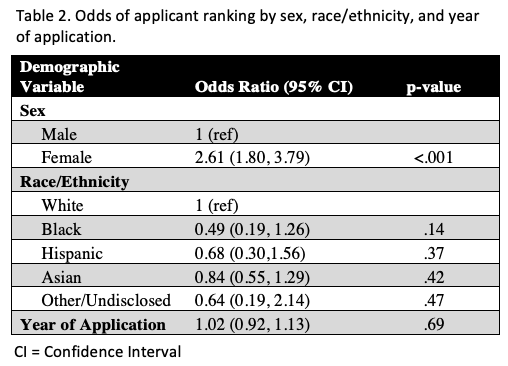 ---
Back to 2022 Abstracts