---
Excision of Intravesical Mini Sling Using an Exclusively Transurethral Approach
Hyosang A. Chiang, MD; Iwona M. Gabriel, MD; Vatche A. Minassian, MD, MPH
Brigham and Women's Hospital, Boston, MA
BACKGROUND:
Stress urinary incontinence affects up to 40% of women in the United States. The third generation of midurethral slings known as single-incision midurethral slings (SIMS) was introduced in 2006 with the goal of providing shorter operative time, less postoperative pain, and decreased rates of injury to surrounding structures (e.g. bladder and/or obturator nerve). Although unrecognized bladder injury during SIMS placement is rare complication, it can lead to irritative voiding symptoms and recurrent urinary tract infections (UTIs) and require operative intervention. Open and laparoscopic approaches to excision of extruded sling components expose patients to considerable surgical morbidity. A transurethral approach is a minimally invasive alternative, but some extruded sling components are in locations not readily accessible by this approach. To address this problem, we present a unique transurethral method of extruded sling excision using endoscopic scissors and an Endoloop™ device for countertraction.
METHODS:
A 75-year old woman, G4, P4, underwent total vaginal hysterectomy, anterior and posterior repair with vaginal vault suspension and MiniArc™ sling placement 2 years prior to presentation. She subsequently developed bothersome urinary urgency, frequency and recurrent UTIs. Office cystoscopy confirmed intravesical sling extrusion. The patient was taken to the operating room for a transurethral excision of extruded sling components using: a 22Fr Storz cystoscope, cystoscopic cold cup biopsy forceps, Vicryl Endoloop™ device and endoscopic scissors. The Endoloop™ device was introduced alongside the cystoscope transurethrally and secured around the extruded sling anchor. This was then used to provide medial traction of the extruded sling components. Endoscopic scissors were used to incise the eroded mesh flush against the bladder epithelium. Hemostasis was achieved using bugbee electrocautery. At the end of the case, the excised anchor and mesh were removed enbloc transurethrally using the Endoloop™ device.
RESULTS:
This minimally invasive transurethral approach allowed for a simple, inexpensive, and low risk procedure for complete removal of extruded SIMS components. The patient was discharged home on the same-day of procedure and had complete resolution of her bothersome urinary symptoms. Importantly, by using a transurethrally introduced Endoloop™ device, the extruded sling components could be manipulated independently of the cystoscope. Traction using the Endoloop™ device may enable transurethral excision of extruded components in locations that would be otherwise difficult to reach using a cystoscope, potentially avoiding the need for an open surgical procedure.
CONCLUSIONS:
Bladder injury during SIMS placement is a rare event, but is associated with significant long-term morbidity. We describe a surgical approach to excision of intravesical extruded sling components that may enable transurethral excision in cases that otherwise may have necessitated a more invasive open approach. The transurethral technique is a safe and effective way to manage mesh extrusion into the bladder lumen. It helps to avoid unnecessary risks of open or laparoscopic surgical approach to mesh excision with improved patient satisfaction.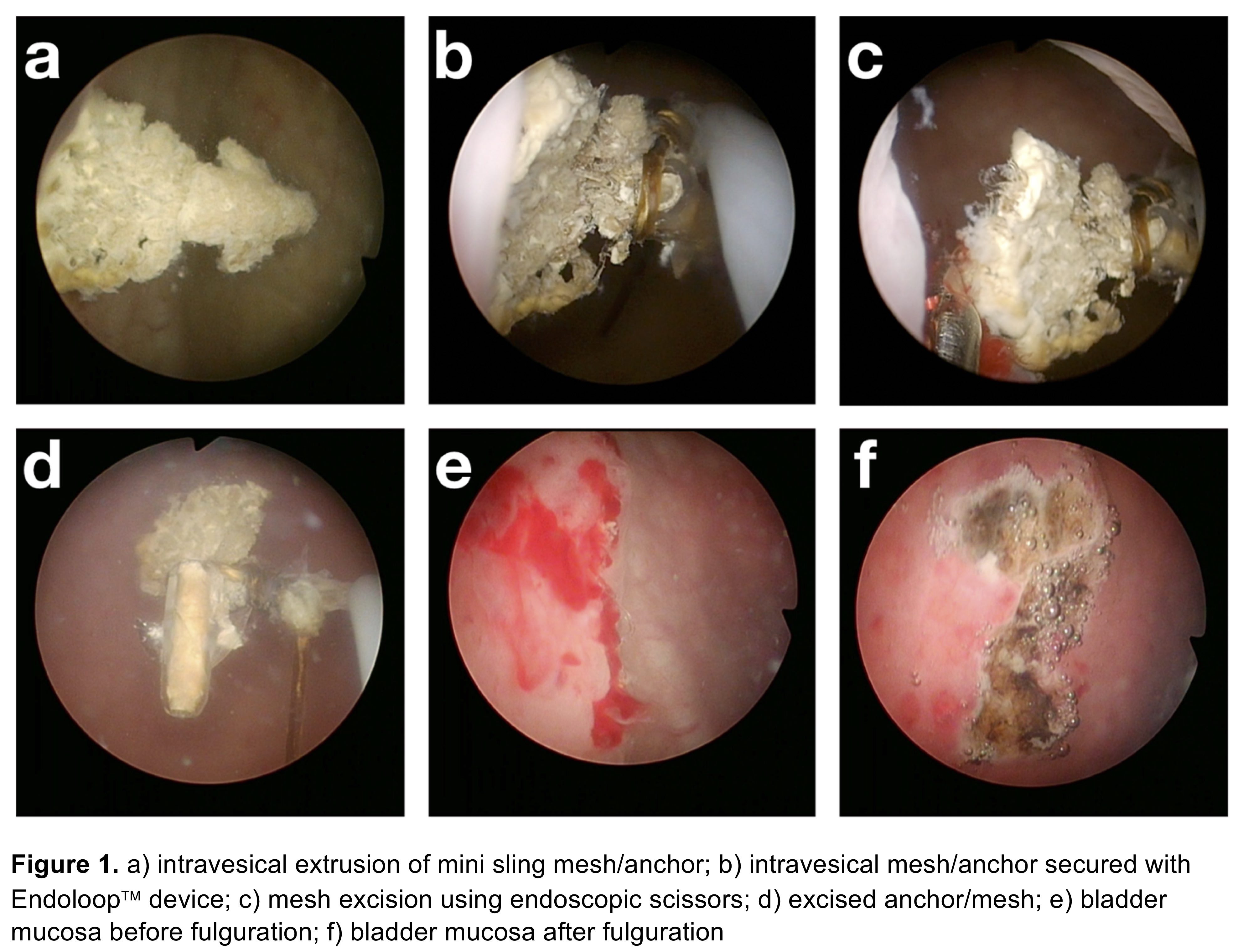 ---
Back to 2018 Program