---
The Value of Planned Renal Stone Clearance at Time of Ureteroscopy for Ureteral Stones: a Comparative Effectiveness Analysis
Rajiv S. Raghavan, ABBE1; Marie-Therese Valovska, BS1; Vernon M. Pais, Jr., MD2
1Geisel School of Medicine at Dartmouth, Hanover, NH; 2Dartmouth-Hitchcock Medical Center, Lebanon, NH
Background
During ureteroscopy for ureteral stones, ipsilateral 'coincidental' renal stones may be present. Best management for these renal stones remains undefined. Although safety of concurrent intrarenal stone removal has been demonstrated, intrarenal clearance extends operative time. Some therefore intentionally leave these stones untreated whereas others routinely perform intra-renal stone clearance after treating the incident ureteral stone. This variation in management highlights the need for comparative effectiveness analysis of intrarenal stone clearance at the time of ureteroscopy for ureteral stones. We sought to characterize the comparative risk of future stone events in patients with and without planned treatment of asymptomatic ipsilateral renal stones.
Methods
We retrospectively reviewed patients with ureteral stones and simultaneous ipsilateral renal stones undergoing ureteroscopy between January 2011 and August 2014 with a minimum 36-month follow-up. Primary exposure was treated / untreated ipsilateral renal stones. Primary outcome was subsequent ipsilateral stone events including unplanned clinic or ER visit, stone passage, or surgical intervention. Statistical analysis was computed in SPSS©.
Results
Of 164 patients, 34 had intentionally untreated ipsilateral renal stones. 130 had planned full stone clearance. Of the full cohort, 47 (28.7%) experienced a subsequent ipsilateral stone event at any time out to a mean follow-up of 54.5 months. Stone events occurred after surgery for 19 and 28 patients in the untreated and treated groups, respectively. Stone events were more likely to occur in the untreated cohort (55.9% vs 21.5%, p<0.0001). Kaplan-Meier analysis demonstrated significantly improved stone event-free survival in planned renal stone clearance cohort (75.2% vs 43.5% at 5 years, p<0.0001).
Conclusions
Our findings confirm benefit to ipsilateral stone clearance. In those for whom renal stone clearance was attempted during initial ureteroscopy, there were fewer ipsilateral stone events and improved stone event-free survival. Planned removal of asymptomatic renal stones during ipsilateral ureteroscopy for ureteral stones may reduce future stone event morbidity.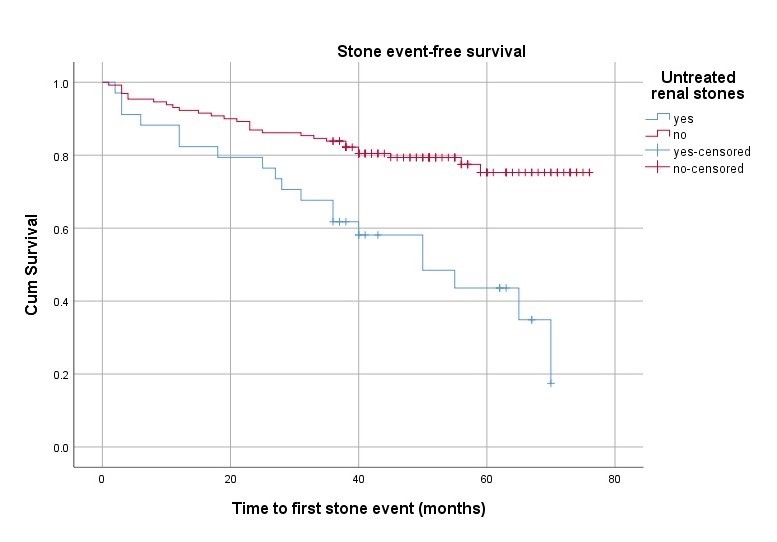 Figure 1: Stone event-free survival for patients with untreated renal stones vs patients with all stones treated.
---
Back to 2018 Program