---
A National Study of Risk-aligned Bladder Cancer Surveillance - Recommended but Rarely Practiced
Florian R. Schroeck, MD; MS1; Kristine E. Lynch, PhD2; Ji Won Chang, MPH2; Todd A. MacKenzie, PhD1; John D. Seigne, MB1; Douglas J. Robertson, MD; MPH1; Philip P. Goodney, MD; MS1; Brenda Sirovich, MD; MS1
1Dartmouth-Hitchcock Medical Center, Lebanon, NH; 2VA Salt Lake City Health Care System and University of Utah, Salt Lake City, UT
Background: Guidelines for surveillance of patients with non-muscle invasive bladder cancer (NMIBC) recommend aligning surveillance frequency with underlying cancer risk. We sought to assess the extent to which such risk-aligned surveillance is practiced within Department of Veterans Affairs (VA) facilities by classifying surveillance patterns for low- versus high-risk patients with NMIBC.
Methods: Using national Department of Veterans Affairs administrative data, we identified patients with NMIBC newly diagnosed 2005 - 2011 with follow-up through 2014. Low-risk (i.e., low grade Ta) or high-risk (i.e., high grade Ta/T1 or carcinoma in situ) cancer was assessed using pathology data extracted via a validated natural language processing algorithm. Procedural codes were used to identify all subsequent surveillance cystoscopies. Using multi-level modeling, we estimated the adjusted frequency of surveillance cystoscopy for low- and high-risk patients within and across facilities. Models were adjusted for age, comorbidity, and year of diagnosis. We compared surveillance frequency for low- versus high-risk patients within each facility and examined the correlation of surveillance frequencies for low- versus high-risk patients across facilities.
Results: We identified 1,278 low-risk and 2,115 high-risk patients across 85 facilities. The mean adjusted number of surveillance cystoscopies per patient over 2 years following diagnosis ranged across facilities from 3.7 to 6.2 (mean 4.8) for low-risk patients and from 4.6 to 6.0 (mean 5.4) for high-risk patients. Within facilities, cystoscopy frequency for high-risk patients only slightly exceeded that for low-risk patients (mean 0.6 cystoscopies over 2 years, range 0.2 fewer to 1.3 more, Figure). At most facilities (70 of 85), cystoscopy was performed at a comparable frequency for high- and low-risk patients, differing by less than one cystoscopy over 2 years (shaded area in Figure). The difference in surveillance frequency among high- versus low-risk patients was statistically significant at only four facilities (green dots in Figure). Across all facilities, surveillance frequencies for low- versus high-risk patients were moderately strongly correlated (r=0.52, p<0.001).
Conclusion: Patients with NMIBC undergo cystoscopic surveillance at comparable frequency, regardless of risk. This finding highlights the need to understand barriers to risk-aligned surveillance, with the goal of making it easier for providers to deliver it in routine practice.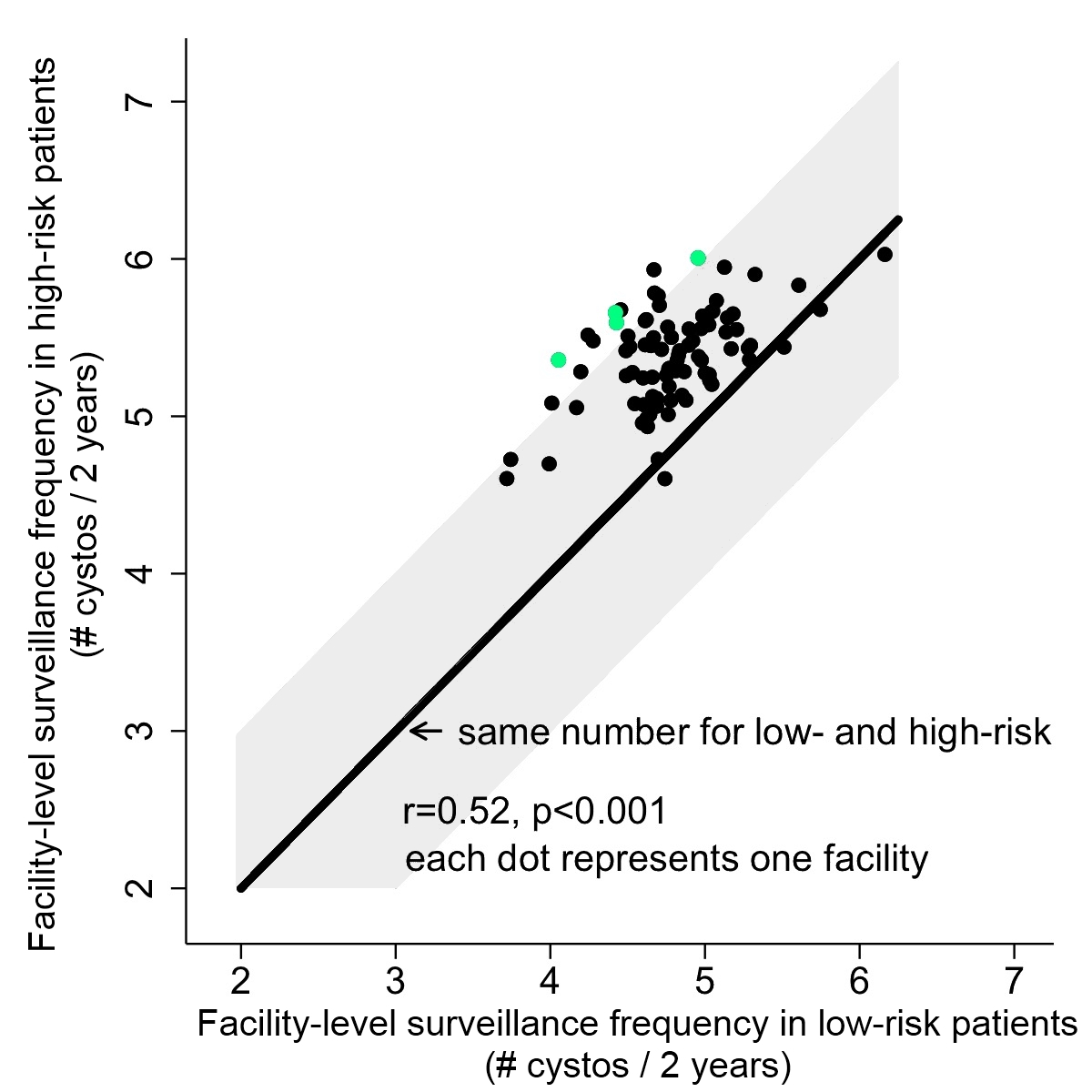 ---
Back to 2018 Program