---
Epidemiology of Penile Fractures in the Emergency Room Setting in the United States
Dayron Rodriguez, MD, MPH1; Kai Li, MD2; Michel Apoj, BS1; Archana Rajender, MD1; Nannan Thirumavalavan, MD3; Ricardo Munarriz, MD1
1Boston Medical Center, Boston University School of Medicine, Boston, MA; 2Massachusetts General Hospital, Boston, MA; 3Baylor College of Medicine, Houston, TX
BACKGROUND: The epidemiology of penile fractures in the emergency room setting is not well described. This study aims to examine the epidemiology, evaluation, management and use of financial resources in patients presenting with penile fractures (PF) to the emergency departments (ED) nationwide in the United States (US).
METHODS: ED visits with a primary diagnosis of PF (based on ICD-9 codes) between 2010 and 2014 were abstracted from the Nationwide Emergency Department Sample (NEDS) (Healthcare Cost and Utilization Project, the U.S. most comprehensive source of hospital care data).
RESULTS: Between 2010 and 2014 a weighted estimate of 8,135 visits to the ED for PF was recorded in the US, which represents a national incidence of 1.02 per 100,000 male subjects per year (+/- 0.068 SE). No meaningful trends in incidence were observed over the 5-year study period. The incidence of ED visits increased by 31.6% during the summer months compared to the winter months (p<0.01) and presentations during weekends (36.4%) was also overrepresented (p<0.01). The region of the US with most visits was the South (40.7%) and patients were most likely to present to a trauma hospital (63.1%, p<0.01). Urethral injury was diagnosed in 8.05% of patients with penile fractures. Mean age of patients with concurrent urethral injury was found to be significantly greater than patients without urethral injury (37.8 vs. 39.3 years, p < 0.01). In patients with PF, 60% were treated and discharged from the ED, and 28.1% were admitted as an inpatient, and 10.4% resulted in patients being transferred to other institutions for further management. Notably, 63.7% of patients with urethral injury were admitted, whereas only 25.8% of patients without urethral injury were admitted. Approximately 36% of patients with PF had no form of medical insurance, and 30.7% had a low income causing a substantial impact on those patients affected. Costs of stay in the ED averaged $6,121, for those patients admitted the mean length of stay was 1.3 days and the inpatient hospital charges for admitted patients averaged $21,913. Cystoscopy or retrograde urethrogram was performed on 25.8% of all patients and in 39.4% of those with urethral injury.
CONCLUSIONS:
This is the largest study of ED visits for PF in the literature to date. These injuries are relatively uncommon, but occurred at higher incidence than previously suggested in the literature and have a significant impact on healthcare resources. PF are more common in the summer months and weekends. Concomitant urethral injury occurred in less than 10% of cases, but urethral evaluation took place approximately in a quarter of patients. Urethral injuries were associated with longer hospital stay and higher hospital cost.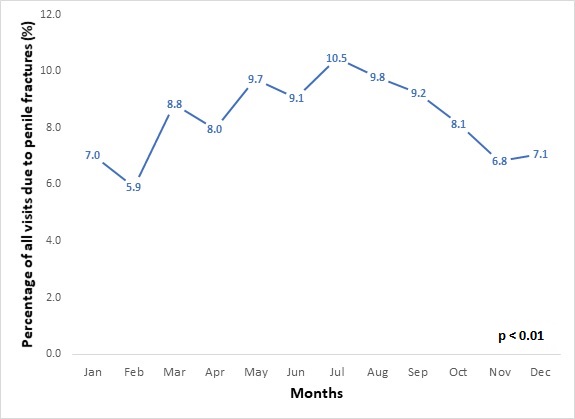 ---
Back to 2018 Program