---
Overuse of Cystoscopic Surveillance Among Patients with Low-risk Non-muscle-Invasive Bladder Cancer - A National Study of Patient, Provider, and Facility Characteristics
David S. Han, BS1; Amanda R. Swanton, MD; PhD1, Kristine E. Lynch, MS, PhD2, Ji Won Chang, MPH2, Brenda Sirovich, MD; MS1, Douglas J. Robertson, MD; MPH1, John D. Seigne, MB1, Philip P. Goodney, MD; MS1, Florian R. Schroeck, MD; MS1.
1Dartmouth-Hitchcock Medical Center, Lebanon, NH; 2VA Salt Lake City Health Care System and University of Utah, Salt Lake City, UT
Background: Since 2005, multiple panels have recommended no more than 3 cystoscopies in the first two years after diagnosis for patients with low-risk non-muscle-invasive bladder cancer (NMIBC). We hypothesized that despite these recommendations many patients receive too much cystoscopic surveillance. We sought to understand the extent of overuse and to examine patient, provider, and facility characteristics contributing to it, potentially identifying targets for improvement.
Methods: Integrating administrative and pathology data extracted via a validated natural language processing algorithm, we included patients newly diagnosed with low-risk (i.e., low-grade Ta) NMIBC within the national Department of Veterans Affairs (VA) Corporate Data Warehouse (CDW) from years 2005 to 2011. Patients were followed until cancer recurrence, death, date of last VA encounter, or for 2 years after diagnosis. Procedure codes were used to enumerate the number of cystoscopy procedures during follow-up. Based on guideline recommendations and length of follow-up, overuse of cystoscopic surveillance was defined as >1 cystoscopy if followed less than 1 year, >2 cystoscopies if followed 1 to less than 2 years, or >3 cystoscopies if followed for 2 years after diagnosis. We obtained patient (age, sex, race, year of diagnosis, number of comorbidities, household income, rural residence) and provider (age, gender, attending vs. resident vs. advanced practice provider) characteristics from CDW. Facility characteristics (size, complexity, number of urologists, rurality) were from VA operational data (Veterans Health Administration Support Service Center). We identified patient, provider, and facility characteristics associated with overuse using multivariable generalized estimating equations.
Results: We identified 1,206 patients with low-risk bladder cancer (mean age 76; 99% male; 85% white; 15% with 0 comorbidities, 47% with 1 to 2, and 38% with 3 or more). We found overuse of cystoscopy among 75% of patients (905 of 1,206). This included 226 (81%) of 280 patients followed less than 1 year, 194 (85%) of 227 patients followed 1 to less than 2 years, and 485 (69%) of 699 patients followed for 2 years. Across all patients in the cohort, 4,805 cystoscopy procedures were performed although only 2,831 would have been recommended. Of 14 patient, provider, and facility characteristics assessed, few were associated with overuse of cystoscopy: earlier year of diagnosis (2005-2006 vs. 2011), white race vs. other/missing, 1 to 2 comorbidities, and attending provider vs. resident (Figure).
Conclusions: Overuse of cystoscopy among patients with low-risk NMIBC in our cohort was common, raising concerns about the cost and quality of bladder cancer surveillance. However, we found few patient and provider factors associated with overuse. The association of earlier year of diagnosis with overuse suggests lack of knowledge of surveillance recommendations as a potential cause of overuse. Further qualitative research is needed to confirm this hypothesis and to identify other determinants of overuse not captured in administrative data.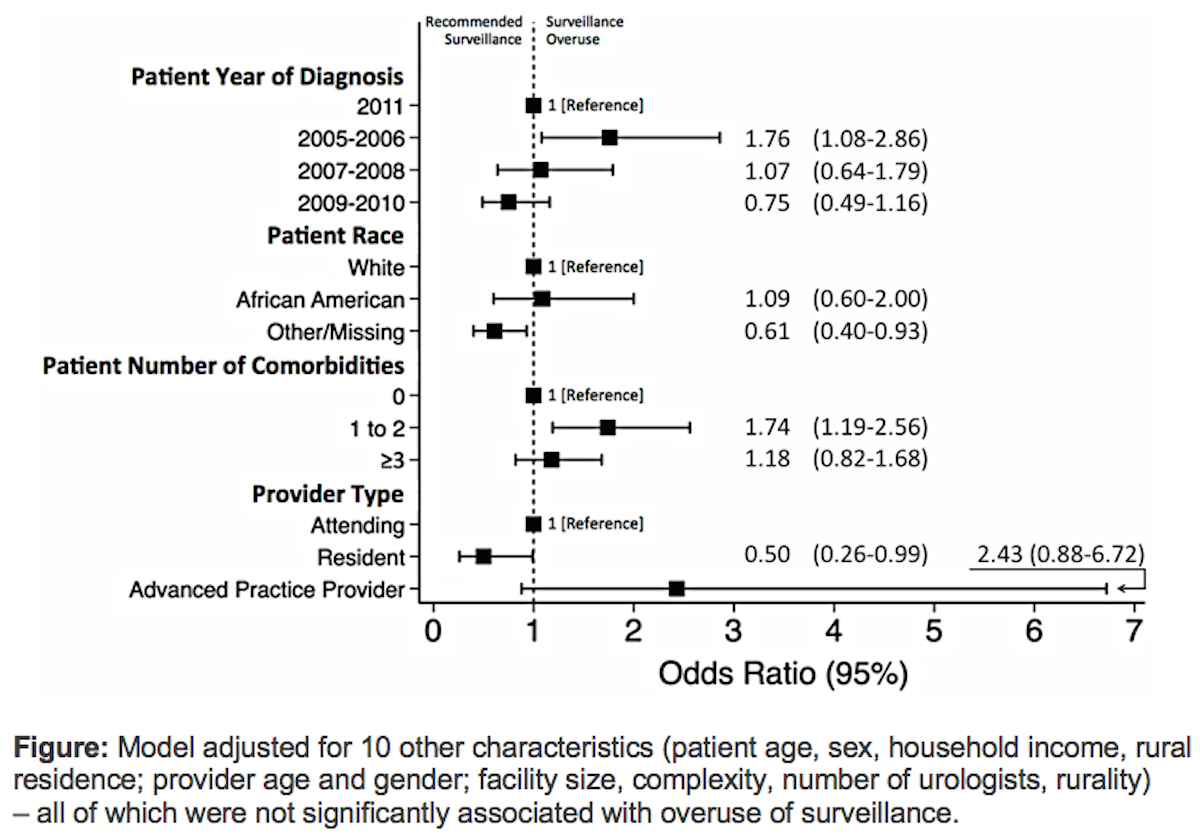 ---
Back to 2018 Program