---
Perioperative Outcomes of Ureteroscopic Laser Lithotripsy with a Single-Use Disposable Ureteroscope
Ohad Kott, MD; Jorge Pereira, MD; Timothy Wright, BS; Eric Jung, MD; Meredith Wasserman, MD; Alejandra Balen, MD; Paul Bower, MD; Christopher Tucci, CURN; Gyan Pareek, MD
Brown University, Providence, RI
Background: Ureteroscopic laser lithotripsy is commonly utilized for surgical stone management. While reusable flexible ureteroscopes (RU) are commonly used, they are criticized for their limited durability which results in unpredictable performance and the requirement of costly repairs. As such, single-use disposable ureteroscopes (DU) present an attractive alternative that may eliminate the costs and delays associated with RU damage. Additionally, DU may have superior deflection, even in the presence of a laser fiber, allowing enhanced maneuverability during ureteroscopic laser lithotripsy. As such, we seek to compare perioperative outcomes of ureteroscopic laser lithotripsy with use of DU compared to RU.
Methods: We identified 203 adult patients who underwent ureteroscopy with laser lithotripsy and/or stone extraction over an 11-month period (3/2017 - 2/2018). Cases were excluded if a semi-rigid ureteroscope was used or if bilateral ureteroscopy was performed. All procedures were performed by a single fellowship trained Endourologist. DU procedures utilized the LithoVue single-use disposable digital ureteroscope (Boston Scientific, USA), while RU procedures utilized the Flex2s fiber optic reusable ureteroscope (Karl Storz, Germany). Electronic medical records were reviewed to record procedural and clinical outcomes including operative time, complication rates and unplanned visit rates. Patients were considered stone free if no residual stone (0mm) was noted follow up imaging (CT or ultrasound). Patients were grouped by flexible ureteroscope type and compared across groups. Comparison and hypothesis testing were performed using two-tailed t-tests, Pearsons's Chi-squared, Fisher's exact and Kruskall-Wallis tests.
Results: 97 cases met inclusion criteria, and of these 24 (24.7%) cases utilized DU. Patients in the DU group had a higher median stone burden (15.5mm vs 9mm, p<0.01), and more frequently had ASA score ≥ 3 (50.0% vs 24.7%, p=0.02) (Table). Overall, the median operative time was 24 minutes, and 47% of cases treated a lower pole stone. Patients in the DU group had a longer median operative time (34min vs 23 min, p<0.01). 74 patients had follow-up imaging available which revealed an overall strict stone free rate of 32.4% and a clinical stone free rate of 54.1%. DU group had lower stone free rates (15.8% vs 32.8%, p=0.09), and higher median residual stone burden (8mm vs 5mm, p=0.22). Similar rates of unplanned postoperative encounters were noted in both groups (Table).
Conclusions: In this cohort, DU was used in cases with a median stone burden of 15mm. While lower stone free rates and larger residual stone burden were noted among the DU group, this likely due to the increased complexity of DU cases. Further studies are warranted to compare outcomes of DU and RU in complex cases, using more homogenous treatment arms. Secondarily, overall stone free rates were lower than reported data which may be due to the strict criteria utilized at our institution to classify a patient "stone-free." As our data matures, we will report on the stone free classification using intraoperative vs radiographic reporting.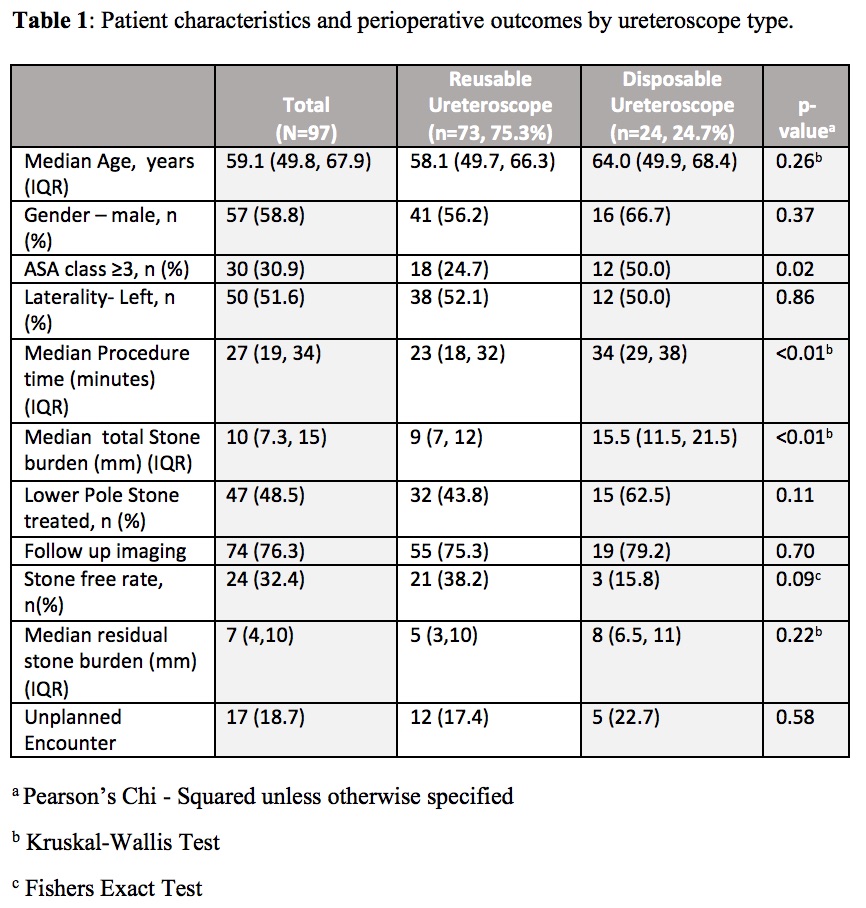 ---
Back to 2018 Program