Back to 2015 Joint Annual Meeting
---
Magnetic Resonance Imaging Targeted Biopsies Alone are Not Sufficient for Detection of Clinically Significant Prostate Cancer - A Systematic Review and Meta-Analysis
Nathaniel T Ondeck1, Cayce B Nawaf2, Laura A Skrip3, Preston C Sprenkle2
1Yale School of Medicine, New Haven, CT;2Yale Urology, New Haven, CT;3Yale School of Public Health, New Haven, CT
Introduction: Magnetic resonance imaging targeted biopsies (MRI-Tbx) have the potential to lower the number of cores necessary for prostate biopsy yet not all clinically significant cancers may be identified. Due to unclear diagnostic performance of MRI-Tbx in comparison with fusion biopsy (Fbx) (targeted and systematic), a systematic review and meta-analysis analyzing cancer detection rates was performed.
Materials & Methods: A systematic review utilized MEDLINE and Embase (English, post-1990). Only studies reporting cancer detection on a per patient basis for Fbx and MRI-Tbx were included. Clinically significant cancer was defined in each study. For the meta-analysis, effect sizes were calculated as single proportions. Each pooled estimate was derived using the random effects model or the fixed effects model, depending on whether or not there was significant between-study heterogeneity, (I2 > 50%), respectively. Analyses were conducted using R Statistical Software version 3.0.1.
Results: 5,350 publications were reviewed and twenty cohort studies involving 3588 patients were included in the final analysis. MRI-Tbx alone detected 88% of the significant cancers detected with Fbx (95% CI: 0.83 to 0.91). MRI-Tbx had a 45% lower detection rate of clinically insignificant cancer than Fbx (95% CI: 0.32 to 0.57).
Conclusions: MRI targeted biopsy alone missed 12% of significant cancers that were captured through fusion biopsy, strongly suggesting that targeted biopsy, without 12-core standard biopsy, is inadequate to detect all clinically significant prostate cancer.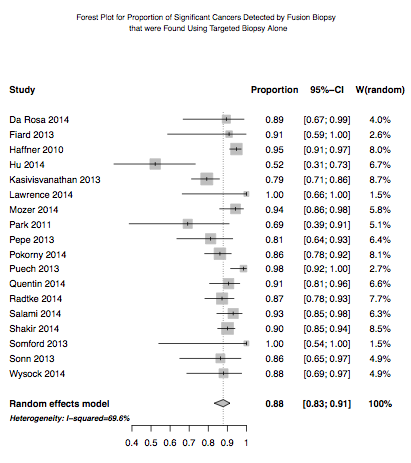 ---
Back to 2015 Joint Annual Meeting