Back to 2015 Joint Annual Meeting
---
Utilization Of Intravesical Chemotherapy With Nephroureterectomy To Prevent Subsequent Bladder Tumor Recurrence: Results From A National Survey Of Urologic Oncologists

Diane D Lu1, Stephen A Boorjian2, Jay D Raman1
1Penn State Milton S. Hershey Medical Center, Hershey, PA;2Mayo Clinic, Rochester, MN
INTRODUCTION: Bladder cancer (BC) occurs in up to 50% of patients following radical nephroureterectomy (RNU). Prospective studies suggest that BC recurrence risk is reduced by administering prophylactic intravesical chemotherapy (pIVC) after RNU. We investigated use of pIVC after RNU in urology practices and queried barriers to utilization.
MATERIALS & METHODS: An electronic survey was distributed to Society of Urologic Oncology members. The survey specifically queried about practice environment, pIVC use, specific regimen, and reasons for not using pIVC.
RESULTS: Survey response rate was 22% (158 of 722). Half of respondents were in practice for <10 years, while 90% performed <10 RNU annually. Of the 144 urologists performing RNU, only half administered pIVC, including 22 exclusively in patients with a history of BC. One-third administered pIVC intraoperatively. The remainder instilled pIVC ≤3 (7%), 4-7 (37%), 8-14 (20%), and >14 (3%) days post-operatively. 95% performed a single instillation. Agents included mitomycin C (n=64), thiotepa (n=5), doxorubicin (n=2), epirubicin (n=1), and BCG (n=1). Amongst respondents who did not administer pIVC, the most common reasons cited included lack of data supporting use, personal preference, and office infrastructure (Figure).
CONCLUSIONS: Only 50% of urologic oncologists report using pIVC with RNU. Underlying reasons underscore the need for continued dissemination of existing data and additional studies to support its benefits. Moreover, improving logistics of pIVC administration may increase utilization rates.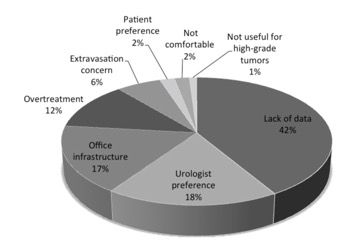 ---
Back to 2015 Joint Annual Meeting