Back to 2015 Joint Annual Meeting
---
Do Male Patients Have a Gender Preference for the Clinician Diagnosing and Treating Their Sexual Dysfunction?
Michael W Bickell1, Michael Frank2, Brian L Steixner3
1Albert Einstein Medical Center, Philadelphia, PA;2Richard Stockton College of New Jersey, Galloway, NJ;3Urology Jersey Group, Somers Point, NJ
Introduction:
With an increasing awareness of male sexual dysfunction and number of Men's Health Centers nationally, the patient experience is of critical importance in the care of erectile dysfunction (ED). Our hypothesis is men have a male gender preference for the clinician treating their ED and older men will have a stronger preference for male practitioners when compared to younger men.
Material & Methods
248 men seeking treatment for oral therapy refractory ED with a single urologist were provided with a questionnaire addressing preferences for the gender of the clinician performing their penile doppler, intracavernosal injection teaching, and follow-up visits.
Results
Of 248 men surveyed, 126 (50.8%), 146 (58.9%), 123 (49.6%) preferred male practitioners to perform doppler imaging, injection teaching and in follow up care, respectively. However, this finding is mediated by the patient's age. When age was factored into the association, patients older than 60 showed a statistically significant preference for male practitioners and patients 60 and younger indicated no preference for male or female practitioner to perform doppler, injection teaching and follow-up care (Pearson Chi Square = 71.4(10) p<.001, 37.84(10) p<.001, and 57.54, p<.001)
Conclusions:
There is a clear association that men older than 60 prefer male clinicians in the treatment of ED. It is important to recognize the treatment preferences of these men and to identify their changing perspectives as they age.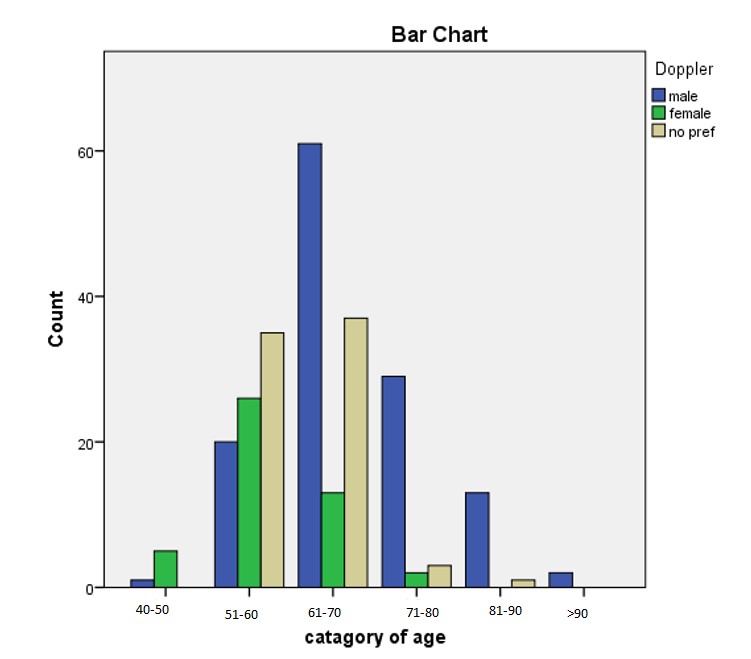 ---
Back to 2015 Joint Annual Meeting