Back to 2015 Joint Annual Meeting
---
Societal Costs After Localized Renal Cancer Surgery
Peter Chang1, Peter Renehan2, Kimberly Taylor1, Ostap Dovirak1, Kyle McAnally1, Catrina Crociani1, Matthew Hayn3, Lisa T Beaule3, Andrew A Wagner1
1Beth Israel Deaconess Medical Center, Boston, MA;2Harvard Medical School, Boston, MA;3Maine Medical Center, South Portland, ME
Introduction: The hospital costs of radical or partial nephrectomy are known, but the societal costs of surgery-related time off work (TOW) have not been described.
Materials & Methods: To 328 subjects in an IRB-approved prospective multi-institutional renal quality-of-life study who underwent surgery for localized renal cancer (excluded cytoreductive nephrectomy), we administered an occupational survey that assessed time off work, income, work physicality, and caretaker assistance. We estimated wages lost using individual income and TOW, and used multivariable logistic regression to identify predictors of TOW > 4 weeks.
Results: 134 subjects responded to the survey. 84 were employed; 6 did not return to work after surgery. 70 had complete occupational information, and were analyzed. Mean age was 55. 90% underwent minimally invasive surgery. 53% had sedentary jobs. Mean (SD) TOW was 5.9 (3.3) weeks and median (IQR) TOW was 4.9 (3.7 - 6.9) weeks. Mean potential wages lost for TOW was \,615 (SD=\). 49% had at least one caretaker take TOW (mean/median caretaker TOW: 12/7 days) to assist post-operatively. Subjects with sedentary jobs were significantly less likely to take more than 4 weeks off (OR 0.30, 95% CI 0.09 - 0.99).
Conclusions: Despite advances in minimally invasive surgery, most patients, especially those with non-sedentary jobs, take >4 weeks off work after renal cancer surgery, which has associated societal costs. This information can help adjust expectations peri-operatively.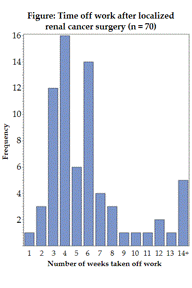 ---
Back to 2015 Joint Annual Meeting