Back to 2015 Joint Annual Meeting
---
Robotic Intervention of Bladder Diverticula
Laura L Giusto1, Matthew S Schaff1, Aseem Malhotra2, Andrew C Harbin1, Daniel D Eun1
1Temple University Hospital, Philadelphia, PA;2Temple University School of Medicine, Philadelphia, PA
Introduction:
Robotic assisted bladder diverticulectomy (RABD) has been associated with good outcomes, shorter hospital stays and less blood loss than open procedures.
Materials & Methods:
We reviewed our RABD experience between July 2009 and October 2014. These included cases with multiple diverticula and concomitant procedures. Diverticula were approached transvesically by opening the bladder at midline. Diverticula with known tumor were packed with surgical sponge through the diverticular neck. Ureteroneocystotomy was performed when the ureter descended near the diverticular neck. With para-ureteral diverticula, retro-ureteral instillation of indocyanine green (ICG) was used for ureteral identification using near-infrared fluorescence (NIRF).
Results:
19 patients underwent RABD. Three RABDs were performed as a sole procedure and three involved multiple diverticula. Fourteen RABDs were performed in conjunction with simple or radical prostatectomy and two in combination with radical prostatectomy and partial or total nephrectomy. Four cases used ICG. Of the three patients who were catheter dependent and five who self-catheterized, all were able to spontaneously void postoperatively. Malignancy was identified in three patients including invasive adenocarcinoma, carcinoma in-situ and non-invasive high-grade urothelial carcinoma. Average follow up was 27 months with no carcinoma recurrences.
Conclusions:
RABD is a safe and feasible technique. Concomitant procedures can be performed to treat chronic bladder outlet obstruction at time of diverticulectomy. Use of intra-ureteral ICG under NIRF guidance helped avoid ureteral injury during complex para-ureteral diverticulectomy dissection.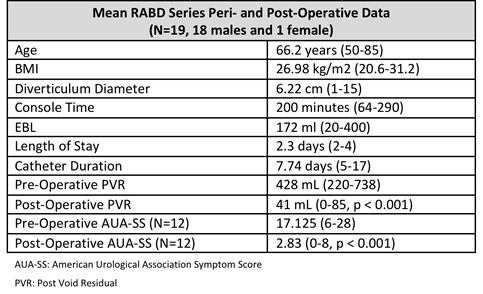 ---
Back to 2015 Joint Annual Meeting