Back to 2015 Joint Annual Meeting
---
Comparison of Referral Patterns for Cryptorchidism between an Urban and Rural Tertiary Center
Dana C Point1, Chad Morley1, Sunil Reddy2, Pokket Sirisreetreerux3, Osama Al-Omar1, John Gearhart2
1WVU Hospitals, Morgantown, WV;2John Hopkins Children's Center, Baltimore, MD;3Ramathibodi Hospital, Bangkok, Thailand
Introduction- Current guidelines in the management of cryptorchidism recommend performing orchiodopexy before 12 months. We compare the age of pediatric patients undergoing surgical intervention for cryptorchidism at an urban and rural tertiary center.
Methods- A retrospective review of patients
undergoing surgical evaluation for cryptorchidism was performed. Patients treated for reasons unrelated to cryptorchidism or referred for multiple urologic diagnoses were excluded. The patients at each institution were then divided into 6 groups based on their age at time of surgery.
Results- A total of 131 cases at the urban center and 100 cases at the rural center were identified. At the rural center, the average age of referral and surgery were 48.3 and 53.8 months, respectively, compared to 59.5 and 65.2 months at the urban center. The statistical difference in age distribution between the patient populations was significant (p-value >0.001). This difference was due to a larger portion of rural site patients being treated at less than 12 months, and a greater proportion urban site patients being treated between 48-132 months. Only 9.9 percent of patients at the urban site and 23 percent at the rural institution underwent intervention at less than one year of age.
Conclusions- A pattern of delayed referral and intervention was observed at both institutions despite differing geographic regions and heterogeneous patient populations.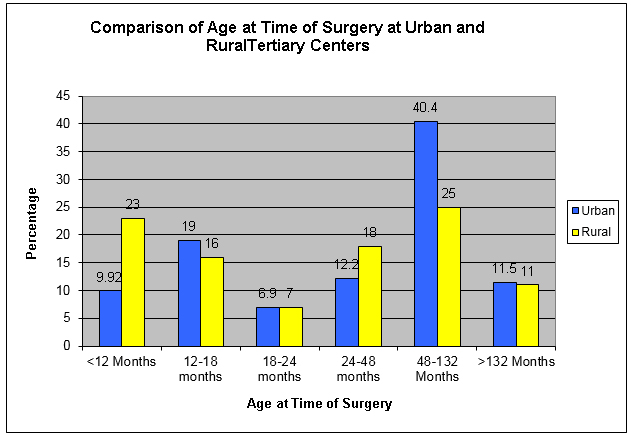 ---
Back to 2015 Joint Annual Meeting