Back to 2015 Joint Annual Meeting
---
Pathogenic Profile of Catheter-Associated Urinary Tract Infections in a Pediatric Institution
Daniel Marchalik1, Nora G Lee2, Hans G Pohl2, Henry Collier Wright1, Lee A Ritcher2, Amanda Pysher3, Clayton P Smith4, Evan M Michaelson5, Keith Kowalczyk1, Gaurav Bandi1
1MedStar Georgetown University Hospital, Washington, DC;2Children's National Medical Center, Washington, DC;3MedStar Georgetown University Hospital, Washington, DC;4Georgetown University School of Medicine, Washington, DC;53Georgetown University School of Medicine, Washington, DC
Introduction:
Although the prevalence and morbidity of pediatric CAUTI is extensive, they remain poorly studied. To date, few studies have explored the causative agents of pediatric CAUTI, and none have demonstrated the implications of concomitant non-urinary infections on CAUTI pathogenesis.
Materials & Methods:
From 2010 to 2014, all CAUTI (as defined by CDC criteria) occurring in a single pediatric institution were recorded in a prospectively maintained database. A retrospective chart review was subsequently conducted on the identified CAUTI events, characterizing the infections by causative agents and concurrent infection status.
Results:
Fifty pediatric patients with CAUTI were identified. Thirteen different pathogens were responsible for the CAUTI, with the majority of infections caused by Pseudomonas aeruginosa (12), Escherichia coli (11), and yeast (8) (Figure 1). Fourteen of 50 (28%) CAUTI demonstrated resistances of 3 or more antibiotics. Concurrent non-genitourinary infection occurred in 25 (50%) of patients, almost all (88%) respiratory in origin. A pathogenic overlap (same agent causing CAUTI and non-genitourinary infection) occurred in 6 of 25 (24%) patients: 2 yeast, 2 Klebsiella pneumoniae, 2 Pseudomonas aureginosa (all respiratory). Forty-two (84%) CAUTI occurred in the ICU setting.
Conclusions:
Concurrent infection occurred in 50% of CAUTI patients; one fourth of patients with concurrent infections had the same pathogen result in a CAUTI. These findings should raise awareness of the potential risk factor that concurrent infection poses on pediatric CAUTI.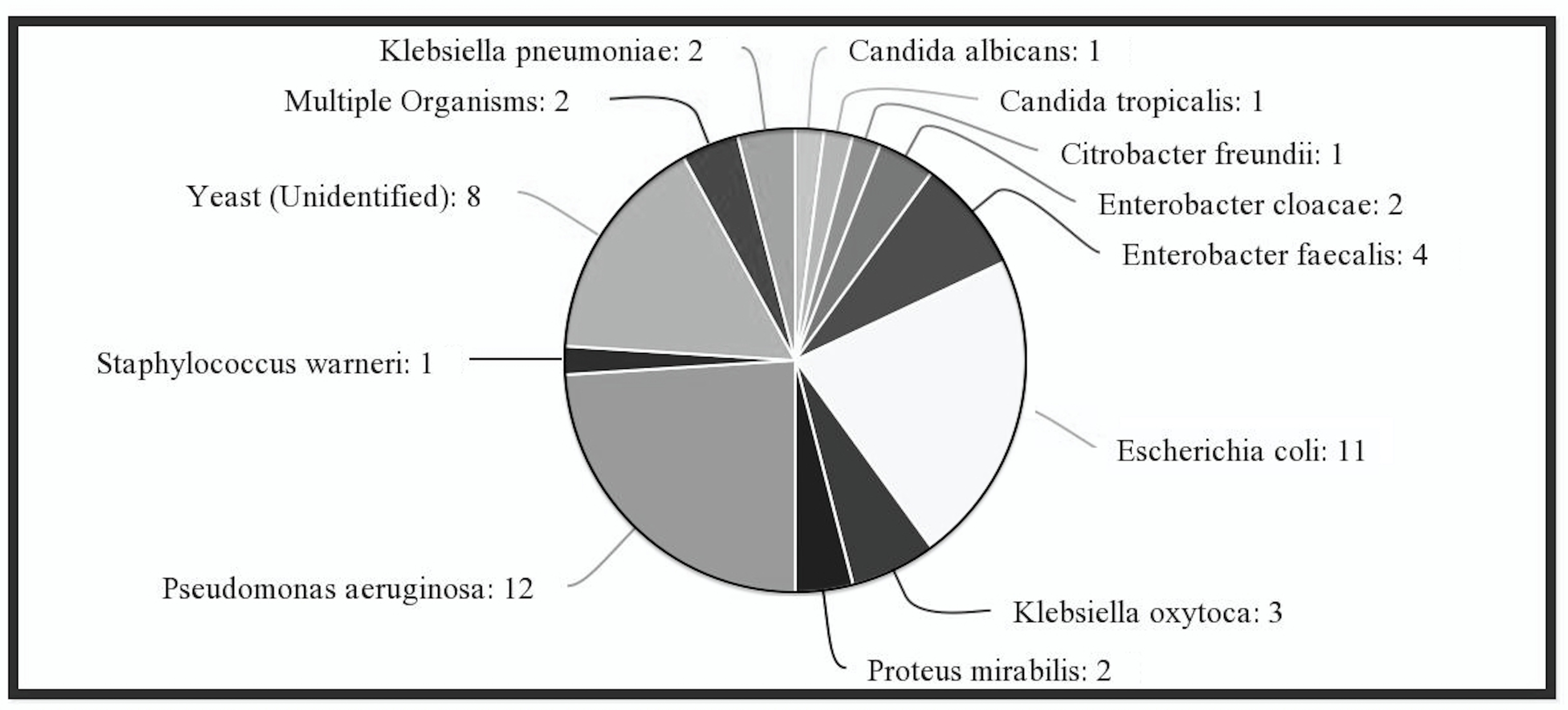 ---
Back to 2015 Joint Annual Meeting